Frank Miracola Scholarship Award
Frank Miracola 21st Century Educational Excellence Award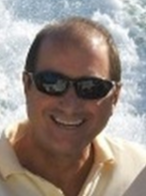 As one of the original creators of the 21things4teachers, the loss of Frank Miracola to cancer in 2010 left a large void. Our team, along with the REMC Association of Michigan, the MACUL organization, and Michigan Virtual (MVU) continue to honor his legacy by selecting an annual winner of the Frank Miracola 21st Century Educational Excellence Award.
Applicants must have successfully implemented something they learned from the 21things Project. Applicants are asked to provide evidence on how the applicant has transformed instructional practice based on the tools, resources, ISTE-Teacher standards, and best practice recommendations found in 21things. Download the sample rubric sheet for further details and scoring rubric for submissions. Winners are awarded and recognized at the annual MACUL Conference. Frank Miracola was an amazing educator who spent his 30+ year teaching career advocating for the integration of technology in the classroom. Known nationally as the "Free is Good" guy, Frank presented at local, state, and national conferences on the free web tools available to educators.
An elementary teacher for 23 years, he became an Interactive Learning and Instructional Technology Consultant for the last 10 years of his life. Known far and wide for his prowess as a digital storyteller, Frank died numerous workshops on creating, editing, and posting digital stories. He was also a pioneer in promoting educator use of personal learning networks such as Twitter, FaceBook and Plurk.
A former winner of the prestigious Milken Educator Award, he was recognized as one of the top teachers in the state of Michigan. An original creator of the 21things4teachers, 21things4administrators, and 21things4students, Frank Miracola was a legendary innovator in technology education. His philosophy promoting free resources for educators was the premise from which the 21things web sites were built, providing a portal for FREE just-in-time training for educators around the world.
Continuing the Legacy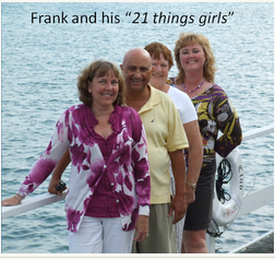 Help us continue the legacy of Frank's work by rewarding innovative educators working to incorporate technology into their classroom.
Send donations to the MACUL Organization, c/o Frank Miracola 21st Century Educational Excellence Award:

520 S. Creyts Road
Lansing, MI 48917
Partners Continuing this Award
​Frank Miracola's networking and professional connections continue even after his passing, and the generous contributions of many individuals and organizations keep the spirit of "Free is Good" alive. With Frank as a former member of the RITS (REMC Instructional Technology Specialists), a past president of the Michigan Association for Computer Users in Learning, and a pioneer in online education, he was an inspiration to many. These three organizations continue to generously support the award: Michigan Virtual University (MVU), Regional Education Media Centers Association of Michigan (REMC), and Michigan Association for Computer Users in Learning (MACUL).


Nominations
​Each year, Agencies that utilize the 21things content are encouraged to nominate an outstanding educator who has successfully integrated educational technology into their teaching. Winners receive $300 to use in the classroom for the integration of the 21things project, and a suite of products sponsored by a vendor such as TechSmith and Adobe. Nominations are accepted at 21things4@misd.net by December 1st of each year. Honorees are recognized at the MACUL annual conference.
---
Delbert Pike was selected in 2021. Del has been a middle school teacher at Ionia Public Schools and a consistent contributor to the 21 Things project for over five years. He serves on the advisory committee and has written and reviewed numerous Quests and technologies such as H5P for the student project.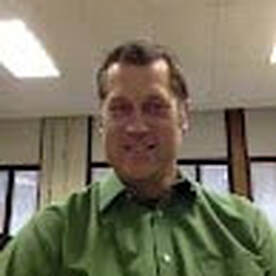 ​Courtney Conley is a library media specialist at Crissman Elementary in Utica Community Schools that was selected in 2020. Courtney has been a part of the 21things4students, MITechKids, Classroom Makers, and 21things4teachers projects and a MACUL, REMC, and ISTE presenter. She is a leader in online learning, serving as a presenter at Macomb 2020 Blended Learning Academy. Courtney spearheaded the redesign of the region's Maker Space for teachers across the service area (REMC 18S).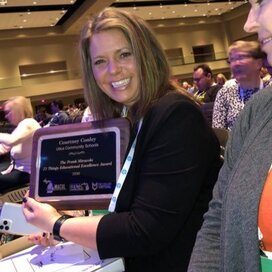 ​Daryl McLeese received the Frank Miracola 21Things Educational Excellence award in 2019. He successfully completed 15 years of teaching at the middle school level teaching grades 6-8 Science, English, and Technology. Daryl successfully implemented the 21 Things For Students (21t4s) in both ELA classes to dive deeper in his technology classes. He created the over 100 animated videos that introduce each Thing and Quest, worked with students to record the animated character voices for many of the animated videos, and served on the Advisory Committee.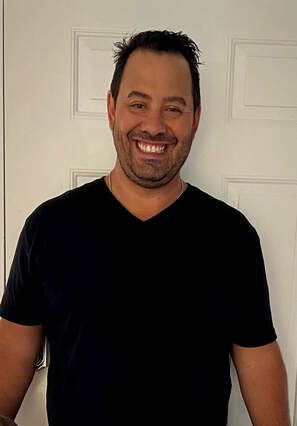 At the 2018 MACUL Conference, Julia Lengemann of Oxford Community Schools was selected for her extensive work on the 21things4students project. Julia has been actively teaching the content in her high school business classes, as well as participating on the revisions to the site for over five years.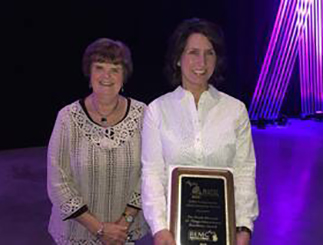 The 2017 Winner was Kathryn Grunow, a Digital Media teacher at Malow Junior Hig h in Utica Community Schools. Kate serves as a 21things Tech Boot Camp instructor, is a 21things4students Pilot Teacher, and is a critical part of the revision team every summer for the 21things Project. Dr. Jennifer Parker presents the award.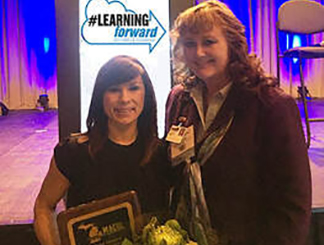 ​The 2016 winner, Kay Wejrowski, is a Library Media Specialist from Swan Valley High School. Kay, shown here with her 21things Instructor Kay Hauck, REMC 5 Director, prepared the following video about her experiences.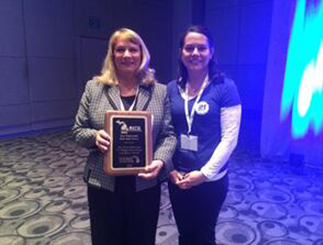 ​2015- Sarah Monnier-White - Chippewa Valley Schools. Sarah is shown here with Kevin Clark the 2015-16 incoming MACUL president.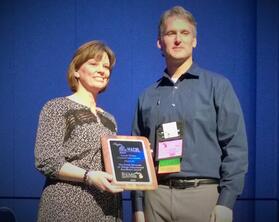 2014- Kevin Emmons, Clarkston High School, Clarkston Community School. Kevin Emmons, is seen here receiving his award from MACUL Executive Director Ric Wiltse and REMC Executive Director Sue Schwartz.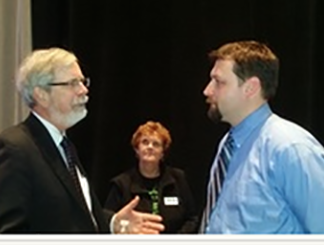 2013- Sylvia Tilman, Gompers Elementary/Middle School in the Detroit Public School system.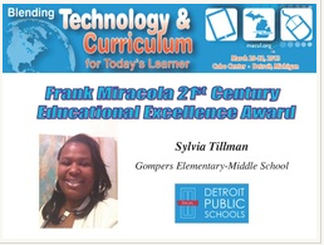 ​2012- Shauna Coleman is an elementary media specialist at Black Elementary in the Warren Consolidated School District. Shauna is seen here with Dr. Jennifer Parker-Moore and Jan Harding at the 2012 MACUL Conference after receiving her award.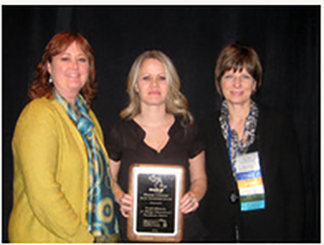 ​2011- Judy Hornberger is a middle school computer teacher at Chatterton Middle School in the Fitzgerald Public Schools.